About The Friends
The Friends of FMCS (Federal Mediation and Conciliation Service) History is a not-for-profit foundation for the purpose of gathering, preserving and publicizing the history of FMCS, and its predecessor, the USCS (United States Conciliation Service). Together these two organizations have provided a full time mediation staff since 1914 .
This site illustrates this long history with materials from the Friends extensive archive. Papers, speeches, documents, photos, interviews, film materials and other memorabilia sketch an institutional history that dwarfs newer mediation providers started in the last thirty years.
As the founder of the Friends, I began gathering these materials as a young FMCS mediator in 1964. I created the Friends in 1992 using personal resources, small donations and a three-year grant.
Friends of FMCS Founder Jerome Barrett 2005 ADR Interview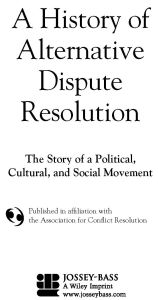 A History of Alternative Dispute Resolution offers a comprehensive review of the various types of peaceful practices for resolving conflicts. Written by me—a longtime practitioner, innovator, and leading historian in the field of ADR—and  my son Joseph Barrett, this volume traces the evolution of the ADR process and offers an overview of the precursors to ADR, including negotiation, arbitration, and mediation. I explore the colorful beginnings of ADR using illustrative examples from prehistoric Shaman through the European Law Merchant. In addition, the book offers the historical context for the use of ADR in the arenas of diplomacy and business.
Read A History of Alternative Dispute Resolution
If you find these materials informative and useful, donations of any size will be appreciated. Please give appropriate credit to the Friends or the website (mediationhistory.org) if you use any material from the site.
To learn more about our latest Fundraising efforts and giving, please read A Fund Raising Letter from the Friends of FMCS History Foundation.
George Washington University (GWU), Gelman Library Special Collections is the location of Friends Collections.
You may visit that collection as well as other sites by going to the Contact Us  page.
We have added the transcript for 55 selected speeches given by FMCS directors and a few others from 1960 to 2004. The speeches are in the Archives.
For more information about the Friends go to About Us.
Thanks to Norm Lee's generous donation that made the original website possible!
Welcome to MEDIATIONHISTORY.ORG
Jerome T. Barrett, Founder