Here is the Winter 2023 Update of news and activities at FMCS.
FMCS Celebrates its 75th Anniversary
The Federal Mediation and Conciliation Service (FMCS) welcomed almost 3,000 registrants for its week-long webinar series during National Conflict Resolution Week last week marking the Agency's 75th anniversary as the nation's premier public agency for dispute resolution and conflict management.
FMCS offered a range of twice-daily online presentations and workshops on a variety of topics including exploring the history of alternative dispute resolution and its future, workplace communication, cognitive bias in negotiations, technology in mediation, creating effective labor-management partnerships in small bargaining units, and other subjects of significance to practitioners and professionals dedicated to resolving conflict in the workplace and beyond.
"As we celebrate our 75th anniversary, we are delighted to share many of the tools, insights, and lessons we've learned throughout our rich history with this audience of industrial relations practitioners from both management and labor, academics, and career neutrals," said FMCS Deputy Director of Field Operations Javier Ramirez during his welcoming remarks to attendees during the opening session.
Although government-provided industrial relations mediation and conciliation services in the U.S. date back almost to the turn of the 20th century, the founding of FMCS by Congress in 1947 sets it apart as is an independent agency whose mission is to preserve and promote labor-management peace and cooperation.
During its 75-year history, FMCS has solidified its role as the premier non-partisan governmental organization for helping parties engaged in difficult situations improve their joint problem-solving abilities, get support to avoid work stoppages, create healthier workplaces and resolve major public policy issues.
2022 Reorganization and Selections for Key Positions
Field Operations Managers
 Region 3
 Region 4
Shane Davis, Field Operations Manager
Associate Deputy Director
National Office
Sarah Cudahy
Associate Deputy Director
Field Operations
Beth Schindler
Office of Policy and Strategy
Josh Flax
Office of Client Services
Kevin Buffington
FMCS Retirements 2022
Laura Shepard          # 1095
George Lovell           # 1170
Donna Filosa
Dennis Teal               #1046
Bobby Thompson      #1000
Carolyn Bromer         #1003
Denise McKenney     #  944
Linda Gonzalez         #  940
Sad News
Passing of Earle Leonhardt and Howard Soloman
EARL LEONHARDT OBITUARY
Earl C. (Buddy) Leonhardt (76) passed away Friday, November 4, 2022, in his home in Madeira, Ohio. He graduated from Roger Bacon High School in 1965. He married his high school sweetheart, best friend, and love of his life, Mary Pamela Calder in 1966.
His cherished children are Stephen (Amy Compston), Laura Lienhart (Devin), Craig [deceased] (Carrie Russell), and Michael. He was the adored "Papa" to Blake and Ryan Lienhart, Ian and Claire Leonhardt, Meg and David Leonhardt, and Millie Leonhardt. He was the devoted brother to siblings Daniel [deceased] (Janet), Karen Brothers (LeRoy), Kerry [deceased] (Andrea), Peggy Remke (Chuck) and Mark (Pam). He is also survived by many amazing nieces, nephews, and a multitude of friends.
Earl started his career working at the Kroger Company Warehouse in Woodlawn, Ohio. His interest in "working people" began when he became a union steward at the Kroger Company. He then ran for a position in the Teamster Union and was elected business agent for Teamster Local 661. Several years later in 1977, Earl applied for a position as a Federal Mediator. He was commissioned to be a mediator with the Federal Mediation and Conciliation Service in the United States government. He retired after 34 rewarding years. Earl had a gift. He could listen to both sides – union and management, find common ground, and reach settlements between them. He often referred to himself as a "peacemaker".
Family and friends were paramount in his life. Raising the children in Madeira, he coached soccer, was involved with scouting, and supported his church, school, and all community endeavors. He provided mediation services for the Archdioceses of Cincinnati as a volunteer since 2012. His passion was golf. He never passed up an opportunity to play, especially with the men he's remained friends with since grade school.
Buddy was a lover of candid photography, compiling hundreds of albums loaded with shots of friends and family over the years. He could often be seen on the sidelines of his children and grandchildren's sporting events and school activities with his camera in hand.
In 2020, Buddy faced COVID-19 and cancer simultaneously. A year later, the cancer returned. He fought a valiant fight but lost the battle to this horrible disease. In lieu of flowers, the family requests that donations be made to Congenital Heart Alliance of Cincinnati, 4010 Executive Park Drive, Suite 100, Cincinnati, Ohio 45241. Phone number: 513-554-3075
Howard W. Solomon
Oct 5, 2022 Updated Nov 14, 2022
 Howard W. Solomon of Bar Harbor and Bethesda, Md., laid down his gavel for the last time Sept. 27 at the age of 91. A retired federal arbitrator and mediator, Solomon was known as thoughtful and fair, bringing a warm smile into day-to-day life. Unafraid to defy convention, Solomon could get the most bitter disputants to compromise, with clear reasoning, principled compassion and a well-timed joke. The son of prominent New York internist Dr. Harry A. Solomon and Ruth Solomon (née Wulfsohn), Solomon was born on the upper east side of Manhattan in 1931. He attended Friends Seminary, a Quaker institution, and was graduated from Yale in 1952. His patrician upbringing notwithstanding, Solomon defied convention with wide-ranging interests. An avid amateur athlete, basketball coach and American Youth Hostels bicycle trip leader of multiple groups to Europe in his late teens and early 20s, Solomon freely admitted that he joined the U.S. Army after earning his juris doctor from Columbia Law School in order to avoid having to pass the New York bar exam (passage was automatically granted after two years of military service). Solomon excelled in his service and received awards for marksmanship as well as the Good Conduct Medal. After the Army, Solomon joined the Federal Mediation and Conciliation Service as a junior attorney, resolving labor disputes between unions and corporations through negotiation and compromise. In a letter to President Lyndon B. Johnson, a union president representing 23,000 workers in a 1967 dispute with tire manufacturer Uniroyal Inc. wrote that Solomon "worked feverishly in the public interest in attempting to aid the parties in resolving their problems and arriving at an equitable settlement" involving pay and worker protections. Uniroyal's management also commended the young mediator in a letter. "Your quiet, unobtrusive and persistent involvement was a significant catalyst to resolving the hardcore and appearingly unsolvable issues remaining between the union and company." Promoted from a field attorney in St. Louis to a federal commissioner in the Midwestern heart of manufacturing, Dayton, Ohio, Solomon met Dolores ("Dee") Stuerenberg, a Cincinnati native who was society editor of the Dayton Journal-Herald and a former nationally ranked tennis player. They married in 1965. Dee urged Howard to accept an assignment with the U.S. State Department's Agency for International Development in New Delhi, India, in 1968. The couple embraced the rich culture and kindness of their Indian friends and colleagues. Dee relished embassy social life on and off the tennis court while the couple raised their young daughter Beth and welcomed their son Harrison, who was born in New Delhi. Returning with the family to Washington, D.C., in the early 1970s, Solomon was given assignments of increasing responsibility in the federal labor relations sector, rising to helm the Federal Service Impasses Panel, a presidential commission charged with adjudicating major labor disputes. While the forward- thinking Solomon privately supported many progressive organizations such as the Sierra Club and Greenpeace, he was respected by colleagues across the political spectrum. Reagan Administration Secretary of Labor William E. Brock commended Solomon, writing, "You are indeed a credit to this Administration." Tall and sinewy, Solomon was a lifelong environmentalist, taking public transportation to the office every day from the family home in Bethesda to downtown Washington, a lengthy trip. Howard drew barbs from his wife and his two sisters Nina S. Hyde, the longtime fashion editor of The Washington Post, and Loire Valley, France-based Marquise Suzanne de Brantes, for wearing running shorts during his commute to the office during hot summers. Solomon met those grimaces with a laugh. After retiring in his late 50s, Solomon began spending more time in Bar Harbor, eventually luring Dee first to a tent on the beautiful coast inside Acadia National Park, and later a house they built nearby, looking out on Frenchman Bay. The couple not only enjoyed Acadia's natural treasures but actively worked to protect and enhance them for others. Indeed, Solomon and others founded the volunteer corps that built and maintained park trails alongside the National Park Service. Later, Solomon served on the board of directors of Friends of Acadia, supporting initiatives such as the launch of a substantial natural-gas-powered bus fleet to reduce car traffic in the park. Bar Harbor was Howard's Eden. In his "retirement," Howard studied jazz piano, eventually filling the lounge of the Balance Rock Inn in Bar Harbor several nights each week with the beautiful melodies of jazz standards sung by Sinatra, Ella and Rosemary Clooney. Later in life, Howard's favorite Sunday activities were listening to Donnie McKethan's landmark radio jazz show "The American Songbook" on public radio station WPFW while reading the New York Times with Dee on the granite rocks of Sand Beach in Acadia. After Dee died in 2016, Howard shuttled between Bethesda and Bar Harbor, spending more time at the piano than on the hiking trails and bike paths of Acadia. In his last days, when he needed the assistance of nurses at Suburban Hospital, he kept a twinkle in his eye. "How are you feeling today, Howard?" asked a nurse two days before he drew his last breath. "Fantastic," he smiled. Trying to make Solomon as comfortable as possible, the nurse said, "Howard, I'm going to put my arm on your shoulder and pull you toward me, OK?" "I really like that idea," he quipped. Near his last day, Howard was told by his family that his nurse's name was Ryan, and that Ryan was doing a great job. "This is my lucky day," he said. Howard took his last breaths with his family at his side. He is survived by his daughter Elizabeth ("Beth") Solomon (Gero Geilenbruegge) of Naples, Fla., and Washington, D.C., son Dr. Harrison Solomon, beloved grandchildren Jessica, Sam and James Solomon, cousins Bill and Pat Middlemiss, brother-in-law Richard Stuerenberg and sister-in-law Linda Stuerenberg, and nieces and nephews Jennifer Hyde (David) Bronstein, Andrea Hyde (Andrew Weinberg), Roger (Nikola) de Brantes, Flore de Brantes, John (Marianne) Meyer, Steve (Maria) Meyer (d.), Mike (Melissa Huddleston) Meyer, Jay D. (Jena) Thacker, James (Sarah) Thacker and Tara (C.J.) Petrou.
FMCS Nomination News
This article outlined the status of Nominiations for the Biden Administration including FMCS.  Javier's nomination which was sent back to the President for the second time (under Senate rules it must be returned to the President if not confirmed by the end of the Senate term) making Javier Ramirez a record holder as a three time nominee for the FMCS Directors position.  He was renominated in January of 2023.  Let's hope 2023 is the year the 20th Director is confirmed.
Time running out to confirm Biden nominees this Congress  WP Article
Analysis by Theodoric Meyer and Leigh Ann Caldwell
with research by Tobi Raji
December 15, 2022 at 6:17 a.m. EST
On the Hill
Time running out to confirm long-suffering Biden nominees this Congress
Gigi Sohn is still waiting to be confirmed for a seat on the Federal Communications Commission. (Chip Somodevilla/Getty Images)
More than 500 days after President Biden nominated him, the Senate on Wednesday evening finally confirmed Francisco Mora as ambassador to the Organization of American States. The vote was 51-45, with Sens. Susan Collins (R-Maine), Lisa Murkowski (R-Alaska) and Rand Paul (R-Ky.) joining 48 Democrats to confirm him.
While a flurry of last-minute negotiations and horse-trading in the waning days of a Congress usually leads to a large spate of confirmations, not every nominee will be lucky.
Especially as more than 200 nominees are still awaiting Senate confirmation.
They include nominees for positions prominent (including IRS commissioner and U.S. ambassador to Russia) and obscure (the director of the Federal Mediation and Conciliation Service) as well as dozens of nominees for federal judgeships.
The rush to confirm these nominees isn't nearly as intense as it would've been if Republicans had won control of the Senate, threatening Democrats' ability to get Biden's nominees through. But, all other things being equal, it would still be easier to do it before the 117th Congress is kaput.
That's because Senate rules dictate that nominations are sent back to the White House at the close of each session of Congress, except for those for which senators agree to make an exception. Absent such agreement, nominees must update and resubmit all the forms they filled out months before.
FMCS EVS Score drops significantly, proving change is hard to accept
'Best Places to Work' Rankings Have Familiar Look, but Many Scores Slip
Highly-ranked agencies commonly tout their status in their public outreach, including for recruiting purposes, while lower-ranked ones often find themselves called to Congress to explain why. Image: Prostock-studio/Shutterstock.com
The new version of the "Best Places to Work in the Federal Government" report has familiar names at the top and bottom, although overall many agencies slipped in the index the Partnership for Public Service uses to create those rankings.
NASA now has a 10-year winning streak as the most desirable among large agencies, with a rating of 85.1 in the index, which is largely based on selected questions from the annual Federal Employee Viewpoint Survey. Following in order among large agencies were HHS, Commerce, the intelligence community and VA.
GAO topped the midsized agencies with an 89.8 percent score, followed by NSF, FERC, GSA and SEC. Among small agencies the Pension Benefit Guarantee Corporation with an 85.6 score was followed by the National Endowment for the Humanities, the Office of Special Counsel, the U.S. International Trade Commission and the Surface Transportation Board.
The bottom three in each category were, in ascending order, DHS (also for the 10th consecutive year), Justice and SSA; NLRB, Court Services and Offender Supervision Agency, U.S. Agency for Global Media; and FEC, International Boundary and Water Commission and National Gallery of Art.
Highly-ranked agencies commonly tout their status in their public outreach, including for recruiting purposes, while lower-ranked ones often find themselves called to Congress to explain why.
The VA was the only large agency to improve its score over 2020—and by just two tenths of a point, from 70 to 70.2. While those agencies are just 17 of the 71 ranked, they account for the vast majority of federal employees.
On the plus side, "The U.S. Agency for Global Media improved by 11.7 points for a score of 64.7, the largest increase among midsize agencies, while the National Endowment for the Humanities was the most improved small agency in 2021, jumping from 25th to second place," it said.
However, the FTC fell from second to 22nd place in the midsize rankings and the Federal Mediation and Conciliation Service dropped from 11th to 24th place, the largest drop among small agencies.
Working to drag down scores was a fall in a major component of those rankings, an "employee engagement and satisfaction score" which government-wide fell by 4.5 points to 64.5.
"This downturn came as the COVID-19 pandemic continued to disrupt the federal workforce during the survey period in November and December 2021. During this time, tens of thousands of civil servants faced uncertainty about returning to the office after more than a year and a half working remotely part or full time, while a sizable portion of the workforce remained on the front lines performing critical public services as the health crisis persisted," it said.
However, it added that the figure is 14.6 points below an engagement index from the Mercer employee research firm for the private sector, which "faced many of the same workplace issues as the government."
Richard Giacolone

Executive Director

Friends of FMCS History Foundation

19th Director FMCS  

 
Hello Friends,
Much has taken place since the last "Friends" email.   A major reorganization and realignment were announced by Acting Director Greg Goldstein and Deputy Director Javier Ramirez on June 10th, 2022. 
All field managers positions have been announced and require current managers to reapply for the now reduced number of field manager slots.  As you can see many other changes are visible in the above chart.
The reorganization of FMCS is scheduled to be completed by Sunday, September 25, 2022. 
SOME SAD NEWS
Tragically another active field mediator, Commissioner Stephen Kessler # 1042 has passed away.  He was preceded by the passing of Commissioner Catanzariti in 2020, and Commissioner Brady in 2018, all while still on FMCS rolls.   
Here is Commissioner Kessler's Obituary: 
Stephen, 57 of Salinas, CA passed on June 16, 2022, at his home from an aggressive rare neuromuscular disease. His recent diagnosis progressed suddenly, and his loss was unexpected. The family is shocked and deeply saddened.
Stephen was born on March 21, 1965, to Leonard and Celeste Kessler in Grand Rapids Michigan . Stephen loved California and after graduating high school, Stephen moved to California where he attended school and graduated from UCSC. Later he received his law degree from Monterey College of Law. Stephen worked as a Federal Mediator at FMCS for the last 20 years. He loved his job and found joy in finding new ways to incorporate technology and innovative skills in his training.
Stephen also spent time volunteering and coaching for the different sport organizations that his grandchildren were involved with as well as volunteering for polling stations in local elections.
Anyone who knew Stephen, knew that he was brilliant yet humble, had a huge love for his family, wasn't afraid to be silly and bring humor into life and always remained grateful.
He had an immense passion for sports, in particular those his grandchildren played. He loved watching and coaching them in baseball and was always there to cheer them on.
Stephen was grateful for having a great life and was always looking at ways to give back to the community. He frequently reminded everyone to choose kindness and he personally practiced that every day. Stephen's positivity was contagious and radiated to everyone around him.
Stephen's family and friends will miss him more than words can say.
Call for Mediator Class Pictures 
We are looking for mediator class pictures for the 2009 through the 1995 class.  For some reason these years are not in the NARA archives or in the public affairs office at FMCS.  If you have a class picture from that time frame, please send, or scan a copy of the picture and send it to rgiacolone@mediationhistory.org.  You can mail the picture to Friends of FMCS History Foundation at PO Box 9517, Chesapeake, VA 23321.  I will scan it and send it back to you quickly. 
Visit to the George Washington University FMCS Archive
I visited the George Washington University Library on July 27th to review the Friends Archive.
I ordered 5 boxes for review from the vast collection of 325 boxes donated by Jerry Barrett, but also spent significant time talking to the archive caretaker about the collection and its future.
He was as interested in the collection as I was since he was not part of GWU when the collection arrived from Jerry.  I asked why they accepted the extremely large collection, and his best guess was, "it had some historical value".  The five boxes I reviewed had a mix of items.  One had photographs (some of which can be found in the National Archives).  Others had files about the FMCS Mediator union organizing effort dating back to 1966. One box had disciplinary actions and reprimands (this should have been red flagged and should not have been made public).  Another had various artifacts like a hat from the cool school program and many bags from the various NMLC and National Conferences.  Vakil (the archive caretaker) when seeing some of the old stuff, (like the bags and hat) said this has no historical significance or value. 
I also contributed to the collection by cutting my finger on broken glass found in the box with the artifacts, so a blood sample from the 19th Director of FMCS can be researched in box 283.
All kidding aside, (my blood was not a joke) the small sample review led to this finding.  The stuff Jerry donated does have some significant FMCS historical value, some questionable legal implications (like personnel records), and some stuff of little to no value.  I'm pretty sure that the rest of the collection if examined in detail, which you are free to do would lead to the same conclusion. 
In my discussion with Vakil I learned that the Teamsters Archives which he leads is housed at GW including a large classroom decorated with Teamsters history and is available for visits and possible new mediator classes to view FMCS and Teamsters history.  He said he could also put together a traveling exhibit of FMCS history and label it properly and set it up at the NMLC or other events.  He said he had a budget to do things like that and would love to do more with the collection. 
I mentioned that the Friends Board discussed the possibility of another location for the collection which might allow for more visibility and access to the collection.  (To see the collection currently if you are not a student or faculty member, you must request a box # and wait a week for it to arrive in the reading room at the Gellman Library, show ID, be escorted, and wear a mask to view the items).
I mentioned that Cornell ILR School may have an interest in the collection.  He was fine with talking to the ILR folks but did say "we don't normally give or take from other collections out of professional courtesy".  
Article about the 1966 attempt to organize FMCS Commissioners found in the GW Archives. 
2024 NLMC Scheduled
Please visit our website for interesting articles which are updated often. https://www.mediationhistory.org/
Executive Director of "Friends" and 19th Director of FMCS,
Rich Giacolone
As of August 29, 2022 no movement on the FMCS Nomination has taken place.
Statement by Press Secretary Jen
 

Psaki on FMCS Personnel

 

Designation
Today, President Biden designated Gregory Goldstein as Acting Director of the Federal Mediation and Conciliation Service (FMCS) and we call on the Senate to quickly confirm Javier Ramirez to serve as the permanent FMCS Director.
 
Goldstein is a career member of the Senior Executive Service and has served as the Chief Operating Officer for FMCS since 2018. Ramirez began his FMCS career as a Commissioner in 2005 and is currently the Executive Manager of the Division of Agency Initiatives. He has mediated disputes in almost all sectors of the American economy, including multi-party disputes in manufacturing, construction, and education. 
 
Because of the President's American Rescue Plan and Build Back Better agenda, our economy has recovered more rapidly than predicted from the COVID-19 pandemic downturn. With tighter labor markets and more money in their pockets, workers have greater power to demand their fair share from employers in collective bargaining with unions across the country. These conditions have put a spotlight on the important role of the Federal Mediation and Conciliation Service.
LEADING FMCS — The administration announced it will make GREGORY GOLDSTEIN the acting director of the Federal Mediation and Conciliation Service Wednesday, as its nominee to be the permanent director, JAVIER RAMIREZ, awaits confirmation in the Senate.
Goldstein has served as the chief operating Officer for the federal agency, which helps to resolve labor disputes, since 2018. Ramirez was nominated for the post in June, but his nomination has been stuck in committee.
ice in facilitating productive collective bargaining relationships and labor-management partnerships.
 
The President's designation of Gregory Goldstein, and his urging of the Senate to confirm Javier Ramirez, should help the FMCS play an even more proactive role in helping unions and employers successfully negotiate collective bargaining agreements, including where there are strikes or lockouts currently underway.
From POLITICO
Obituary for Former Director Moffett from Washington Post 11/28/21
KENNETH ELWOOD MOFFETT "Ken"
Ken Moffett, a former federal mediator and union leader, died on November 19, 2021, of natural causes. He is survived by his wife of 24-years Mary (Taddeo) Moffett; his children, Laura Tornell, Olney, Maryland, Ken Jr., Alexandria, VA and John (Antioch, CA); three grandchildren (Brian, Scott and Melanie) and three great-grandchildren (Isabella, Oliver and Eva). A memorial service will be held at 11 a.m. on Friday December 10, 2021 at Our Lady Queen of Peace Catholic Church at 2700 South 19th Street, Arlington, VA 22204. Donations in lieu of flowers may be made to one of these charities: Jobs With Justice, at: 
www.jwj.org
 The 
Alzheimer's Association
;https://alz.orgOur Lady Queen of Peace Catholic Church: https://
www.ourladyqueenofpeace.org
/
Published by The Washington Post on Nov. 28, 2021.
What is currently happening at FMCS? Who is in charge? Good questions, here is the news.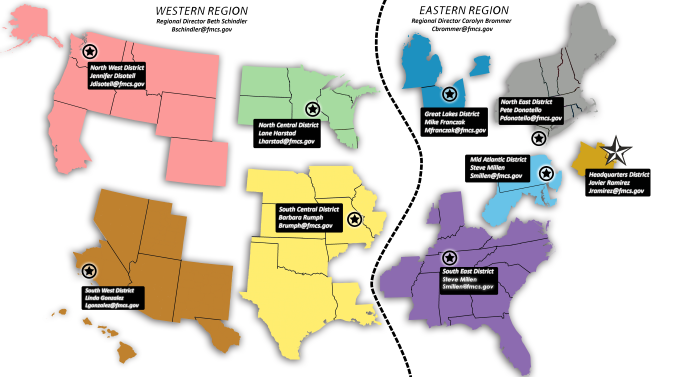 Rich Giacolone the 19 Director of FMCS retired on January 2, 2021, after leading the Agency for 3 years. His vacancy will remain until the next Director is confirmed by the Senate (See news on the situation below).
Deputy Director Gary Hattal was in charge until his retirement in December 2021, his title was Deputy Director with the duties of the Director. Gary had 26 years of experience with FMCS and was Director Giacolone's Deputy Director during his entire term.
We do have developing news impacting FMCS: Javier Ramirez was announced by the Biden Administration as the FMCS nominee on June 9th, 2021.  He was voted favorably out of the Senate HELP Committee on August 3rd and was placed on the Senate Executive Calendar, No. 300.  He now awaits a vote in the full Senate.
Here is the White House Announcement:
Javier Ramirez, Nominee for Director of the Federal Mediation and Conciliation Service
Javier Ramirez began his FMCS career as a Commissioner in 2005 and is currently the Executive Manager of the Division of Agency Initiatives.  This office bears responsibility for the Office of Conflict Management & Prevention, Office of Strategy & Development, the Center for Conflict Resolution and Education, the FMCS Institute for Conflict Management, and the DC and Northern Virginia (HQ) Commissioners. 
Javier mediated disputes in all sectors of the economy (except air and rail) in professions such as the performing arts, public safety, professors, hospitality, hospitals, manufacturing, and packing houses.  Javier facilitated and mediated multi-party disputes in manufacturing, construction, and education.  He was on the facilitation team for several regulatory negotiations, including the Department of Energy (DOE) negotiations that resulted in the largest energy-saving rule in DOE history.  Javier also trained and successfully facilitated parties in various collaborative bargaining models.  Notably, Javier collaborated with colleagues to create the FMCS Affinity Bargaining model.  He represented the agency in international tri-partite training efforts in Bangladesh and trained all New Zealand labor mediators on collaborative bargaining. Javier has been the recipient of multiple FMCS performance awards in recognition of his work, including the Director's Award.
Additionally, Javier is regularly asked to present at national and regional conferences on conflict management topics.  He guest lectured on labor relations and dispute management at the University of Illinois, University of Colorado Boulder, National Defense University, Cornell, and other universities.
Prior to FMCS, Javier spent over fourteen years in labor relations, negotiating contracts and resolving disputes in areas such as immigration, contract administration, communication, staffing, and politics at the federal, state, and local level.  His efforts have been featured in Rolling Stone, Chicago Tribune Magazine, and Chicago Lawyer Magazine; cited in the New York Times Best Seller Fast Food Nation; and recognized by the College of Labor and Employment Lawyers.
Javier enjoys the performing arts or exploring the great outdoors with his wife and two adult children.
This is great news for FMCS, and if his nomination is confirmed by the Senate (as I expect it to be), he will be the second consecutive FMCS commissioner to be nominated and confirmed.