Hello Friends,
Much has taken place since the last "Friends" email.   A major reorganization and realignment were announced by Acting Director Greg Goldstein and Deputy Director Javier Ramirez on June 10th, 2022. 
All field managers positions have been announced and require current managers to reapply for the now reduced number of field manager slots.  As you can see many other changes are visible in the above chart.
The reorganization of FMCS is scheduled to be completed by Sunday, September 25, 2022. 
SOME SAD NEWS
Tragically another active field mediator, Commissioner Stephen Kessler # 1042 has passed away.  He was preceded by the passing of Commissioner Catanzariti in 2020, and Commissioner Brady in 2018, all while still on FMCS rolls.   
Here is Commissioner Kessler's Obituary: 
Stephen, 57 of Salinas, CA passed on June 16, 2022, at his home from an aggressive rare neuromuscular disease. His recent diagnosis progressed suddenly, and his loss was unexpected. The family is shocked and deeply saddened.
Stephen was born on March 21, 1965, to Leonard and Celeste Kessler in Grand Rapids Michigan . Stephen loved California and after graduating high school, Stephen moved to California where he attended school and graduated from UCSC. Later he received his law degree from Monterey College of Law. Stephen worked as a Federal Mediator at FMCS for the last 20 years. He loved his job and found joy in finding new ways to incorporate technology and innovative skills in his training.
Stephen also spent time volunteering and coaching for the different sport organizations that his grandchildren were involved with as well as volunteering for polling stations in local elections.
Anyone who knew Stephen, knew that he was brilliant yet humble, had a huge love for his family, wasn't afraid to be silly and bring humor into life and always remained grateful.
He had an immense passion for sports, in particular those his grandchildren played. He loved watching and coaching them in baseball and was always there to cheer them on.
Stephen was grateful for having a great life and was always looking at ways to give back to the community. He frequently reminded everyone to choose kindness and he personally practiced that every day. Stephen's positivity was contagious and radiated to everyone around him.
Stephen's family and friends will miss him more than words can say.
Call for Mediator Class Pictures 
We are looking for mediator class pictures for the 2009 through the 1995 class.  For some reason these years are not in the NARA archives or in the public affairs office at FMCS.  If you have a class picture from that time frame, please send, or scan a copy of the picture and send it to rgiacolone@mediationhistory.org.  You can mail the picture to Friends of FMCS History Foundation at PO Box 9517, Chesapeake, VA 23321.  I will scan it and send it back to you quickly. 
Visit to the George Washington University FMCS Archive
I visited the George Washington University Library on July 27th to review the Friends Archive.
I ordered 5 boxes for review from the vast collection of 325 boxes donated by Jerry Barrett, but also spent significant time talking to the archive caretaker about the collection and its future.
He was as interested in the collection as I was since he was not part of GWU when the collection arrived from Jerry.  I asked why they accepted the extremely large collection, and his best guess was, "it had some historical value".  The five boxes I reviewed had a mix of items.  One had photographs (some of which can be found in the National Archives).  Others had files about the FMCS Mediator union organizing effort dating back to 1966. One box had disciplinary actions and reprimands (this should have been red flagged and should not have been made public).  Another had various artifacts like a hat from the cool school program and many bags from the various NMLC and National Conferences.  Vakil (the archive caretaker) when seeing some of the old stuff, (like the bags and hat) said this has no historical significance or value. 
I also contributed to the collection by cutting my finger on broken glass found in the box with the artifacts, so a blood sample from the 19th Director of FMCS can be researched in box 283.
All kidding aside, (my blood was not a joke) the small sample review led to this finding.  The stuff Jerry donated does have some significant FMCS historical value, some questionable legal implications (like personnel records), and some stuff of little to no value.  I'm pretty sure that the rest of the collection if examined in detail, which you are free to do would lead to the same conclusion. 
In my discussion with Vakil I learned that the Teamsters Archives which he leads is housed at GW including a large classroom decorated with Teamsters history and is available for visits and possible new mediator classes to view FMCS and Teamsters history.  He said he could also put together a traveling exhibit of FMCS history and label it properly and set it up at the NMLC or other events.  He said he had a budget to do things like that and would love to do more with the collection. 
I mentioned that the Friends Board discussed the possibility of another location for the collection which might allow for more visibility and access to the collection.  (To see the collection currently if you are not a student or faculty member, you must request a box # and wait a week for it to arrive in the reading room at the Gellman Library, show ID, be escorted, and wear a mask to view the items).
I mentioned that Cornell ILR School may have an interest in the collection.  He was fine with talking to the ILR folks but did say "we don't normally give or take from other collections out of professional courtesy".  
Article about the 1966 attempt to organize FMCS Commissioners found in the GW Archives. 
2024 NLMC Scheduled
Please visit our website for interesting articles which are updated often. https://www.mediationhistory.org/
Executive Director of "Friends" and 19th Director of FMCS,
Rich Giacolone
As of August 29, 2022 no movement on the FMCS Nomination has taken place.
Statement by Press Secretary Jen
 

Psaki on FMCS Personnel

 

Designation
Today, President Biden designated Gregory Goldstein as Acting Director of the Federal Mediation and Conciliation Service (FMCS) and we call on the Senate to quickly confirm Javier Ramirez to serve as the permanent FMCS Director.
 
Goldstein is a career member of the Senior Executive Service and has served as the Chief Operating Officer for FMCS since 2018. Ramirez began his FMCS career as a Commissioner in 2005 and is currently the Executive Manager of the Division of Agency Initiatives. He has mediated disputes in almost all sectors of the American economy, including multi-party disputes in manufacturing, construction, and education. 
 
Because of the President's American Rescue Plan and Build Back Better agenda, our economy has recovered more rapidly than predicted from the COVID-19 pandemic downturn. With tighter labor markets and more money in their pockets, workers have greater power to demand their fair share from employers in collective bargaining with unions across the country. These conditions have put a spotlight on the important role of the Federal Mediation and Conciliation Service.
LEADING FMCS — The administration announced it will make GREGORY GOLDSTEIN the acting director of the Federal Mediation and Conciliation Service Wednesday, as its nominee to be the permanent director, JAVIER RAMIREZ, awaits confirmation in the Senate.
Goldstein has served as the chief operating Officer for the federal agency, which helps to resolve labor disputes, since 2018. Ramirez was nominated for the post in June, but his nomination has been stuck in committee.
ice in facilitating productive collective bargaining relationships and labor-management partnerships.
 
The President's designation of Gregory Goldstein, and his urging of the Senate to confirm Javier Ramirez, should help the FMCS play an even more proactive role in helping unions and employers successfully negotiate collective bargaining agreements, including where there are strikes or lockouts currently underway.
From POLITICO
Obituary for Former Director Moffett from Washington Post 11/28/21
KENNETH ELWOOD MOFFETT "Ken"
Ken Moffett, a former federal mediator and union leader, died on November 19, 2021, of natural causes. He is survived by his wife of 24-years Mary (Taddeo) Moffett; his children, Laura Tornell, Olney, Maryland, Ken Jr., Alexandria, VA and John (Antioch, CA); three grandchildren (Brian, Scott and Melanie) and three great-grandchildren (Isabella, Oliver and Eva). A memorial service will be held at 11 a.m. on Friday December 10, 2021 at Our Lady Queen of Peace Catholic Church at 2700 South 19th Street, Arlington, VA 22204. Donations in lieu of flowers may be made to one of these charities: Jobs With Justice, at: 
www.jwj.org
 The 
Alzheimer's Association
;https://alz.orgOur Lady Queen of Peace Catholic Church: https://
www.ourladyqueenofpeace.org
/
Published by The Washington Post on Nov. 28, 2021.
What is currently happening at FMCS? Who is in charge? Good questions, here is the news.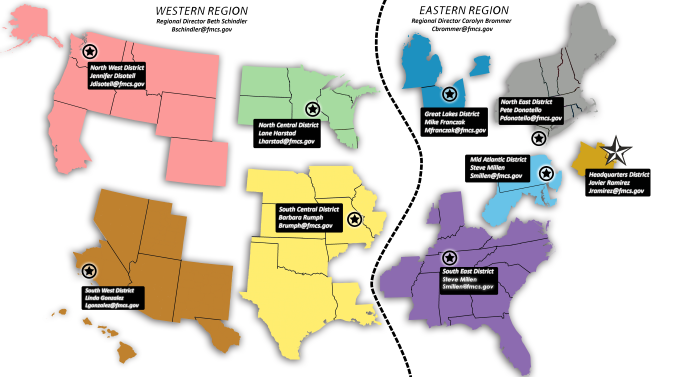 Rich Giacolone the 19 Director of FMCS retired on January 2, 2021, after leading the Agency for 3 years. His vacancy will remain until the next Director is confirmed by the Senate (See news on the situation below).
Deputy Director Gary Hattal was in charge until his retirement in December 2021, his title was Deputy Director with the duties of the Director. Gary had 26 years of experience with FMCS and was Director Giacolone's Deputy Director during his entire term.
We do have developing news impacting FMCS: Javier Ramirez was announced by the Biden Administration as the FMCS nominee on June 9th, 2021.  He was voted favorably out of the Senate HELP Committee on August 3rd and was placed on the Senate Executive Calendar, No. 300.  He now awaits a vote in the full Senate.
Here is the White House Announcement:
Javier Ramirez, Nominee for Director of the Federal Mediation and Conciliation Service
Javier Ramirez began his FMCS career as a Commissioner in 2005 and is currently the Executive Manager of the Division of Agency Initiatives.  This office bears responsibility for the Office of Conflict Management & Prevention, Office of Strategy & Development, the Center for Conflict Resolution and Education, the FMCS Institute for Conflict Management, and the DC and Northern Virginia (HQ) Commissioners. 
Javier mediated disputes in all sectors of the economy (except air and rail) in professions such as the performing arts, public safety, professors, hospitality, hospitals, manufacturing, and packing houses.  Javier facilitated and mediated multi-party disputes in manufacturing, construction, and education.  He was on the facilitation team for several regulatory negotiations, including the Department of Energy (DOE) negotiations that resulted in the largest energy-saving rule in DOE history.  Javier also trained and successfully facilitated parties in various collaborative bargaining models.  Notably, Javier collaborated with colleagues to create the FMCS Affinity Bargaining model.  He represented the agency in international tri-partite training efforts in Bangladesh and trained all New Zealand labor mediators on collaborative bargaining. Javier has been the recipient of multiple FMCS performance awards in recognition of his work, including the Director's Award.
Additionally, Javier is regularly asked to present at national and regional conferences on conflict management topics.  He guest lectured on labor relations and dispute management at the University of Illinois, University of Colorado Boulder, National Defense University, Cornell, and other universities.
Prior to FMCS, Javier spent over fourteen years in labor relations, negotiating contracts and resolving disputes in areas such as immigration, contract administration, communication, staffing, and politics at the federal, state, and local level.  His efforts have been featured in Rolling Stone, Chicago Tribune Magazine, and Chicago Lawyer Magazine; cited in the New York Times Best Seller Fast Food Nation; and recognized by the College of Labor and Employment Lawyers.
Javier enjoys the performing arts or exploring the great outdoors with his wife and two adult children.
This is great news for FMCS, and if his nomination is confirmed by the Senate (as I expect it to be), he will be the second consecutive FMCS commissioner to be nominated and confirmed.